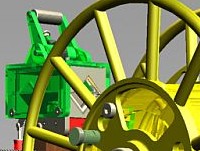 Nadat Jaak Fransen eerst AUTOCAD had gevolgd in TIO-CVO te Overpelt, kreeg hij de smaak pas goed te pakken. Drie modules lang was de cursus INVENTOR onder deskundige begeleiding van Cristiano M., boeiend van het begin tot het einde, geen moment van verveling.

Bij de laatste module moesten de cursisten iets ontwerpen. Jaak heeft er vele uren tekenplezier aan gehad, alles in losgegooid wat hij geleerd hadden. Het werd een mobiele kabeloproller.
Het ontwerp mobiele kabeloproller dient om van volle kabelhaspels (500m) in kortere lengtes op te rollen naar gelang de klant dit wenst. Voor Jaak is Inventor: "Learn, discover, create and Enjoy".

Bekijk zijn ontwerp: Kabeloproller voor kabelhaspels

Heeft u zelf een ontwerp dat u met ons wenst te delen? Mail hem ons en wij voegen deze met veel plezier toe aan onze Gallery...be proud of your work!